Philosophies, Values, Vision & Mission
Business Philosophies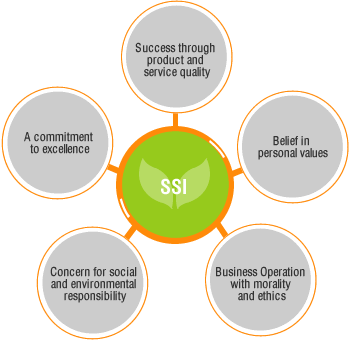 Devotion to Excellence
SSI is determined to do all we can to continuously improve ourselves and our operations. Through study, research, development, and upgrading, we aim for the highest we can attain. We believe that today can be better than yesterday, and that tomorrow must be better than today. This effort to develop and break new records of excellence must be perpetual in all aspects of our operations.
Adherence to Quality of Products and Services
SSI's products and services are all designed with the best interests and satisfaction of the customer in mind. We believe that our customers will always be willing to pay for the best, and that no improvement is of any use if it does not meet our customers' needs. SSI attaches great importance, therefore, to quality in every stage of the production process, from the choice of raw materials all the way through to testing the finished product. Our services, from our first contact with the client to punctual delivery of the order, confirm this commitment to the quality satisfied customers require.
Belief in the Value of Our Personnel
SSI honours the contribution of every employee at every level of the organization. We know that good employees are the main reason for an organization's success. For this reason, we take care to hire only the best to work with us, and provide fair and attractive remuneration packages that include constant training and education. Quality of life for our employees is paramount; their occupational health and safety are assured, thus benefiting not only our personnel but also society as a whole. Commitment to Honesty and Ethics
Commitment to Honesty and Ethics
SSI is fully resolved to conduct our business honestly and ethically. We believe that honesty and ethics in business bring good order to society and progress to the nation, and assure long-term prosperity in commercial dealings. Our transactions are based on responsibility, transparency, and equity to all stakeholders, including shareholders, investors, customers, business partners, creditors, competitors, employees, the local community, and society in general.
Dedication to Our Social and Environmental Responsibilities
SSI's concern for the environment and the common good stands upon the principle that we are a member of society. Any change in society is certain to affect our business. We are convinced that business, society, and the environment must all be developed in concert to ensure a sustainably successful enterprise. Our responsibility, therefore, is to take part in maintaining a good natural and social environment, balancing what we take with what we give in return.
Value
I
ntegrity  "We do what we say"
F
ighting Spirit  "Never give up"
A
im for excellence  "Anything is Possible"
C
an Change  "Be the leader of change"
T
eamwork  "One for all, all for one"
S
ervice-mind  "Deliver more than expected"
Vision
"Leading and trusted steel company in innovation and business solution"
Mission
"Innovate premium value steel product, service and market for customers and consumers; create sustainable shared value and trust for stakeholders"