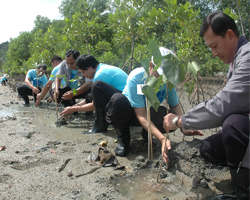 Sustainability
For the sake of honesty, transparency, and fairness, According to the principle of good corporate governance.
All personnel at SSI take their social responsibilities seriously. We believe that being generous to our communities and encouraging progress in society is essential to our success and growth as a responsible corporate citizen. The past decade is clear evidence of our commitment to meeting the needs of our customers through product development and international standards of management. Equally important, however, is assuring our employees of a higher standard of living and caring for the communities surrounding us. By nurturing our social and natural environment, we are reaffirming our dedication to principles of sustainable corporate governance. These principles help us to maintain a balance between good business and good corporate citizenship.
Society & Community
Mindful of its social responsibilities, SSI seeks to strengthen local community life through our support for education, sport, culture, environment, and society.
Environment
Environmental responsibility is a top priority for SSI. We put the principle into practice through the Environmental Management System and encourage all employees at all levels to participate in the management system: striving to consume fewer natural resources and minimizing environmental pollution.
Safety & Occupational Health
Under our philosophy and business ethics believing in our personal values, SSI cares for the well being and quality of life of those with whom we are directly involved: our employees and their families and the neighboring communities.